One year ago, I had a meeting with the HR manager of my previous employer, to announce that I decided to quit.
Yes I had a good job, good responsibilities and the good salary that goes with them, but I was not in line with the values of my employer. Overtime, it affected me a lot and it became impossible for me to continue. I felt like I was wasting my time, and skills.. Spending all my energy to make few (anonymous) shareholders richer then they already were. I did not see the point. I learned what I had to learned – and I am still grateful for that – but I had enough!
I had been dreaming and preparing to quit for a while, with a crazy idea in mind that I would create my own job, my own company, and make a difference at the same time.
One year. And I never regretted it!
To be honest, I did not really know what to expect, and felt like I was taking a huge risk. Today, I am so happy I took this chance!
So if you are preparing your "job-out", if you dream to become a social entrepreneur, or even if you just wonder if it could be possible, let me share with you 12 things I learned in the past year!
# 1 – There is no "good time" to become an entrepreneur
One thing I was afraid of, is my age. See, I am 27 years old. So if you do the math right, it means I only had 3 years of professional experience after my Master's degree.. And I really wondered if it was enough!! Would people trust me to do the job?!
What I realized is, people do not care about YOU. Really not! What they want is a solution for THEIR problem. Being passionate & authentic is more important then having such or such background / experience.
# 2 – WHY is more important than HOW
Before actually resigning, I made sure I had a more or less clear idea of what I would do. I now realize that I actually spent too much time on HOW (business model, localization, financing). Because once I got clear on WHY, and stopped trying to create something that did not exist out there but that would make sense for me instead, everything got clear!
# 3 – You cannot figure everything out by yourself
One of the best decisions I made when started my company was to get help right away. I hired a coach to show me the way, and by only working together during 6 months, I think I have same at least 1 year of work. Who knows, I might have even given up without that help!
When starting my entrepreneurial journey, I remember feeling at the bottom of a GIANT mountain. I had so many things to figure out, I did not really know where to start! I was getting really impatient and disappointed with the little progress I was making on my own.. while spending more time on google to read everyone's perspective then on actually taking action.
I love learning, but I also realized I could not learn everything there needed to be known if I wanted to be financially sustainable before my bank account went dry. By getting the help from "someone who knows" and by applying her methodology (developed by helping similar entrepreneurs like me), I did not have to think about "how", I could finally concentrate on getting things done.
# 4 – You do not need a team not to be alone
Working on your own is fantastic. You get to make all the decisions, you never need to explain your choices or negotiate for an approval. You take responsibility for your choices, and get really proud when things finally work out!
BUT, it is also nice to be able to share with people who understands when there are challenges, brainstorm for solutions, share the work that you are not so great at (or hate doing), and off course celebrate!
Although I run my company alone, I never spend 1 day without sharing my experience with someone.
There are the people I pay (lawyer, accountant, webdesigner) to do the work I do not know how to do.
There are the people I share my journey with (the coach who helped me during my first 6 months of entrepreneurial journey, other entrepreneurs at the same stage as me who I talk with daily, my accountability partner who I skype with weekly) to be on track and help them stay on their track too.
There are my partners (other entrepreneurs with who I develop initiatives, conferences, online events, workshops, and so much more to come) to grow together and have an even bigger impact :)
And off course my clients, thanks to which I really feel useful, and who I love working with!
# 5 – It doesn"t need to be "perfect" (at all) 
I though I had to work a lot. I though I had to fine-tune every little detail. I though if it was not perfect, it would never work. I was wrong! Things cannot be figured out before-hand, and trying is much more efficient then fine-tuning.
Entrepreneurship is a journey of continuous improvements. It was hard for me to put my ego on the side at the beginning, but I realized the feedback from real beneficiaries on a 1.0 version of an idea worth a 1,000 days of work.
I launched my website (and thus company) only 2 month after I quit my job. Was it ready? Not really.. Was it perfect? Nope. Was it worth it, definitely! In the following 3 months, I worked on 3 pilots and changed my positioning (twice). If I had work on the first version of my idea till it was "perfect" according to me (and only me), I would never be where I am now.
# 6 – Communication is almost more important then your actual product
Before launching my company, I was thinking a lot about the solution I would provide. The products I would develop, the services I would offer. I had the feeling that the quality of my offer would be of 1st importance to have a real positive impact while generating revenues.
I came to realize, no matter how great your solution is, what actually matter is how you explain its benefits, how you attract potential clients, how you communicate in your community! Because without clients, there is no impact (and no revenues to re-invest and improve the solution for the greater good!).
To be honest with you, I sometimes felt really tired to work on the communication aspect of my company. What I wanted to do with my life is to be a consultant for social entrepreneurs, not to be a marketing manager! I managed to overcome this frustration by realizing the following: communication has a social impact too. When you communicate about your solution, you touch a larger audience then your clients themselves. You thus can change mentalities and provide a positive inspiration for a wide community of like-minded people!
# 7 – Making a difference starts with changing ONE person's life. And it's already great.
The best day of my entrepreneurial journey was when one of my client told me: "you changed my life". That same week, another one said "I could never have done it without you, or it would have taken years".
I started my business thinking "how could I make a large impact?", dreaming about large-scale changes. I had to revise my ambitions a little because even if it is possible, one must first start "somewhere". However, I realized quantity is important for the ego, but quality is what matters for the heart.
My business is about helping people create the change they want to see in the world, by helping them build good foundations as they become social entrepreneurs. And every-time I help 1 new person, it make me so happy I could never envision do something different with my life.
# 8 – It is not as hard as I thought
One of my biggest fear was: will I be able to make a living out of my company? How long will it take to be financially sustainable?
I gave myself 1 year to become financially sustainable. It turns out I reached break-even point in only 8 months! I realized that once you have good foundations – validated by an expert – and once you have put in place a system for your impact to be delivered efficiently while generating revenues, AND if you do something your are truly and sincerely passionate about, it is not that hard to make it work!
Once you know what to do, and concentrate on "doing", results come. It is as simple as that!
# 9 – One source / monthly revenues is not the "only way"
When you grow up surrounded by employees (in the society, in your family), and have experienced monthly income coming out-of-the-sky whatever your productivity is, it is hard to get used to not having any revenue for a few months. It takes time and energy to seed, and you never really know when you'll be able to harvest.
So the first thing I did was to think yearly, and not monthly. It is just easier psychologically ;)
Also, I realized that being an entrepreneur also means being the entrepreneur of your life. And that you can generate revenues from many different ways. It can be out of your main activity / product (yes), but it can also be out of spin-off products. Or partnerships. Or writing a book. Or getting rents revenues.
If you really think about it, the sky is the limit :)
# 10 – Taking holidays is a great productivity booster
I had heard entrepreneurs don't take holidays (at least for the first few years). Some even do not take weekends. I was SO HAPPY to also see some entrepreneurs making their life-work balance a priority. Because it is really important for me, and one of the reasons why I quit my 60-hour-per-week previous job!!
OK, I have to admit that I felt pretty guilty when taking my first holidays, and couldn't stop checking my social media accounts and emails.. Yet, after a few days I realized that it really helped to take a step back. Without making any effort, my relaxed-brain got really creative and on the plane back home. As I was falling asleep, I suddenly had a super-great-idea that really changed my business. And that still has positive effect today!
As a result, I try to take time-off as often as I can, because I know that the more relaxed I am, the more I get creative and find solutions I could not have come-up with by simply "working on it"!
# 11 – Entrepreneurship is a great opportunity to be yourself
One "unexpected" outcome of my entrepreneurial journey is that I actually really feel "myself". By doing what I love, what I am great at, in my own way, and together with like-minded people, brings me at the best of myself.
When creating your own job, your own company, you get to choose where you live, what you do, where you go. You are free to be yourself.
# 12 – Nothing is impossible
I live in a country where I barely speak the language. There are too few social entrepreneurs where I live to build a potentially sustainable business in this field. As an expat, I am not eligible for grants, loans or any other financial support neither in my home country nor in my host country.
And yet, I made it!
With a bit of creativity, and open-mind, and the determination to make it work, I made it happen!
>> And so can you. Whatever difficulties you may face, it is up to you to think outside-the-box and create the change you want to see in the world.. for good ;)
---

---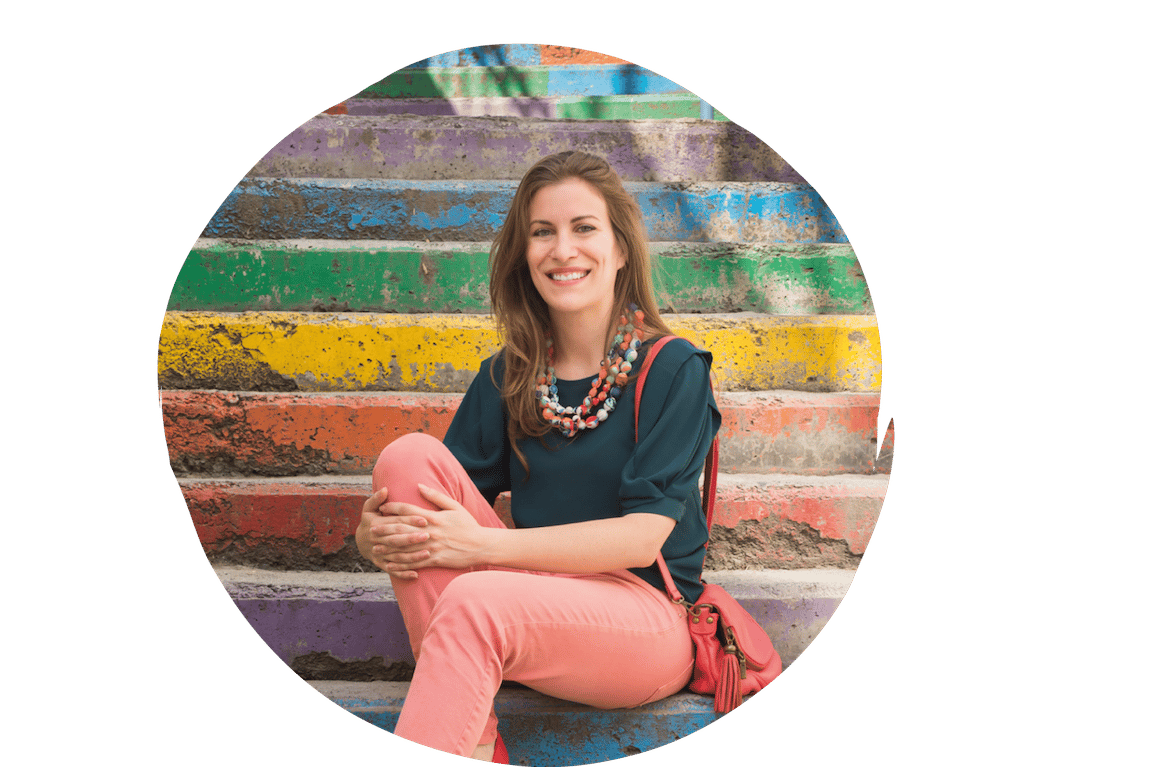 Solène is the Chief Empowerment Officer of Creators for Good.
She developed a methodology that allows Global Citizen to start and grow their own impactful businesses from anywhere in the world – and with no need for investors or government support.