Being an entrepreneur is amazing. You get to call your own shot, do things your own way, work with people you choose, and on a cause that truly matters to your heart.
And yet, so much freedom can be tough too.
Many decisions to make, many responsibilities to take. Sure, every mistakes or things that don't work out is a great learning. But when you have a rent to pay (and a fridge to fill), you can't really afford to spend months and months learning-your-way-through and reinventing the wheel. You have to find short cuts.
And you know what the fastest way to learn is?
Learn from others who have been there before you, and who have deducted a methodology (or best course of action) to get from where you are to where you want to be WITHOUT spending weeks or months trying things out in various direction.
I would add that, on top of speeding things up, learning from others maximizes your chances of success by adding more confidence, and so persistency, into the mix.
Let's compare two scenario to illustrate:
Scenari #1: When you try something out on your own, it's easy to get discouraged quickly when the results are not there. And to go into a "new idea" (reassuring in the short run, but damaging in the long run).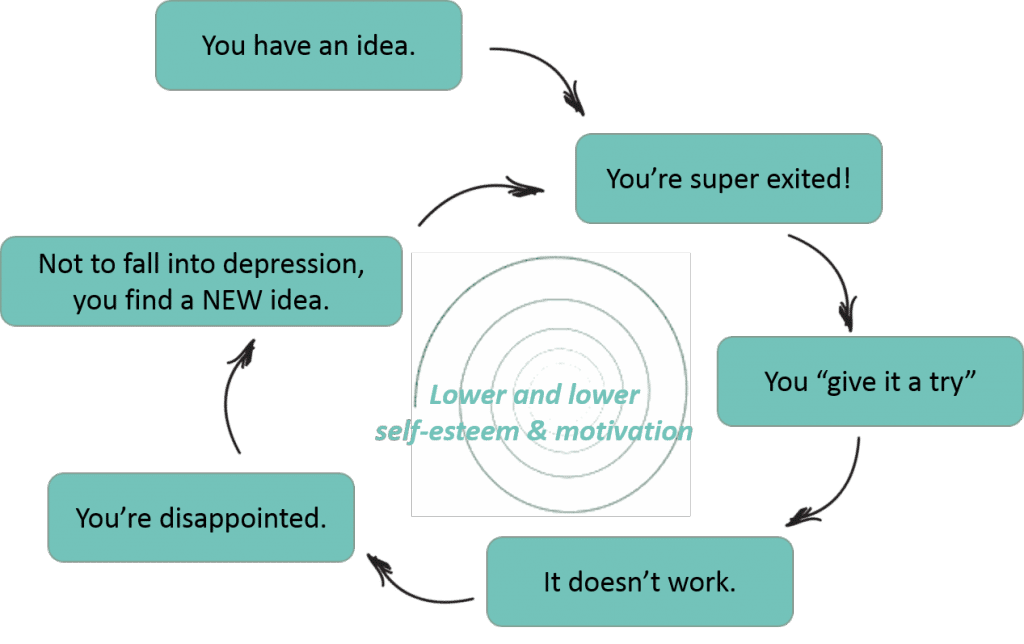 Scenari #2: But when you learn from someone else that has a proven track record, it's another story ! Because you know you're heading in the right direction, you're less tempted to try other things. Instead, you use your creativity and energy to pursue in that direction till it works.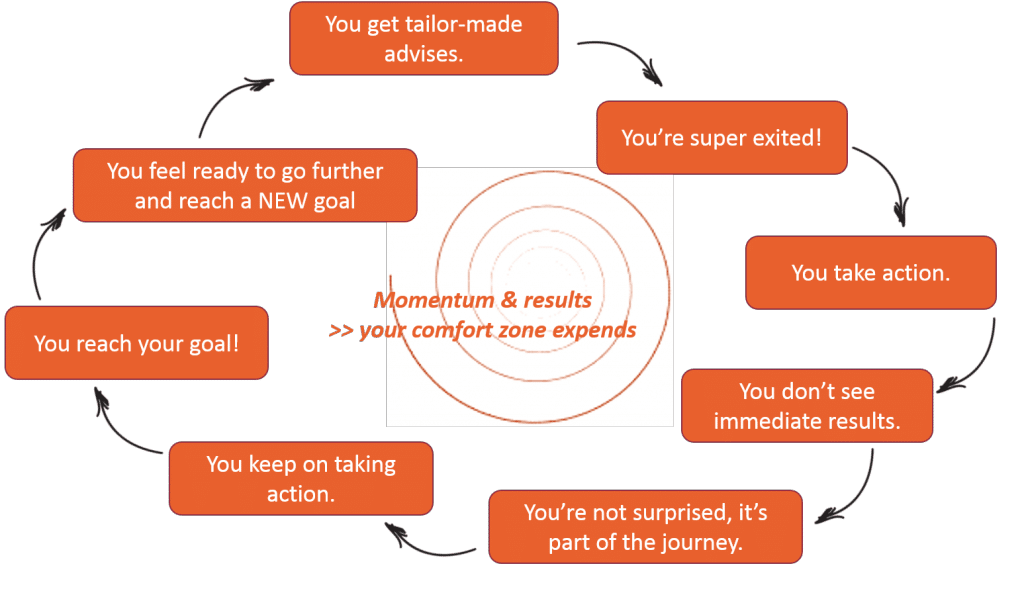 As entrepreneurs, the best way to learn is from other entrepreneurs. (be careful: don't be tempted to get advises for free, from government-related institutions who are full of very nice people happy to provide insights and advises.. without ever having started a business themselves!!!)
There are many ways to learn:
You can buy a book for couple of dollars.
You can take a self-study course for less than a hundred dollars.
You can join a group program for a couple hundread dollars.
Or you can hire an actual mentor (or coach) for a couple hundread dollars per months.
In my 2-years-and-a-half entrepreneurial journey, I've tested all those formats. I've learned things from cheap books and from super expensive individual programs.
And you know what? They all worth it! It just depends what you want to get out of that support (and how autonomous you are to implement things on your own and without feedbacks, when you choose a self-study program).
I find that books and self-study programs are good to learn new skills. To improve yourself.
Group programs and individual mentors are best suited if you're looking at reaching a new goal (and gaining momentum). To improve your results and impact.
>> Yes, the investment required is higher, but the results and return on investment are much higher as well (just like looking at free yoga video on youtube is less powerful then getting a private tutor ;) )
And so, after this super long intro (!!), here are the 3 signs to recognize if you need to hire your next mentor (or coach):
# 1 – You need accountability
You've tried on your own, and despite your efforts and all the actions you've taken, the results are just not what they should be. You're inside the circle described above: you're trying many things, but they don't really work out. You're on an emotional roller coaster and it damages your overall motivation and self-esteem.
A mentor will give you accountability. S.he will be able to tell you when to pursue even if the results are not quite there yet. You'll feel an external pressure not to give up too fast, until you gain momentum.
#2 – You need momentum
You feel like the time has come. It's now, or now.
You've spend time trying and trying, now you want to get results. You're ready to give you all, provided that you get the certainty this is the right direction to run towards.
Hirering a mentor will give you a deadline, as you'll agree on a goal and a timeframe (3 months to launch your first product, 8 months to reach financial sustainability…)
#3 – You need a quantum leap
You want a breakthrough. To reach a level you've never touched upon. You want to jump into a new, bigger, brighter dimension of your entrepreneurial journey. You're ready to take your business to the next big step.
Well, that's what mentors are for! All you need is someone who has already reached the level you want to reach, plus formulated a methodology to get (people like) you there.
Bonus : do you feel some "shame" admitting you need help? Don't!
In a 2013 executive coaching survey, 80% of CEOs said they received some form of mentorship. In another research by Sage, 93% of startups admit that mentorship is instrumental to success.
I personally can testify that, without my coaches and mentors, I would never have been where I am today. And it SO worth the investment, that I get a new coach or mentor every year, to make sure I maximize my impact potential. AND so that I can help my clients have an even more wonderful impact too!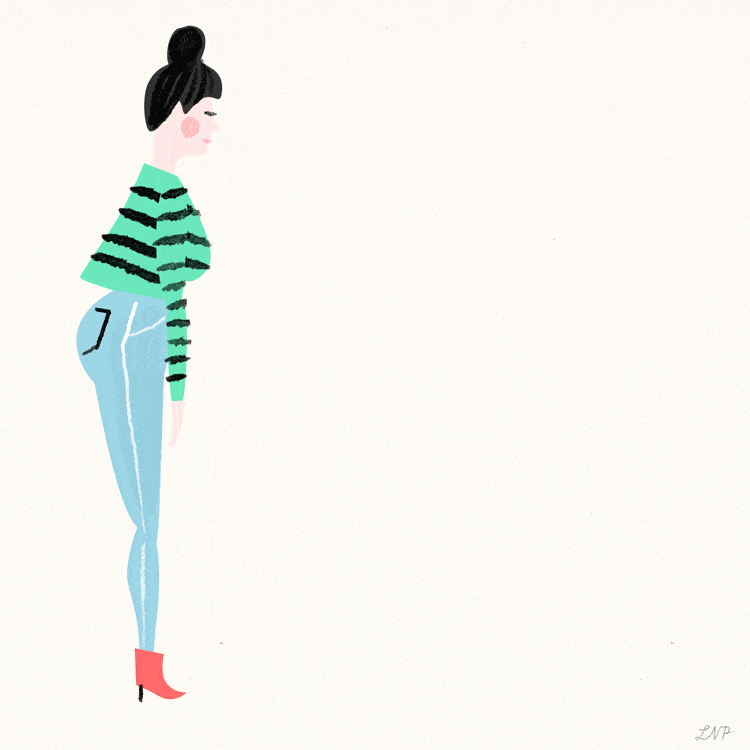 Alright, so do you recognize yourself in the 3 signs above?!
Awesome : it means you're ready to commit, to put all your chances on your side to reach your goals, and invest in yourself and your business to get the results you deserve. And the good news is, by making this investment you can be sure that your impact and entrepreneurial journey can only IMPROVE.
Before you leave this page to go hunt for the perfect mentor, make sure you grab my checklist below! This is the checklist I use myself before making each and every of my investment decisions – when it comes to hiring my mentors: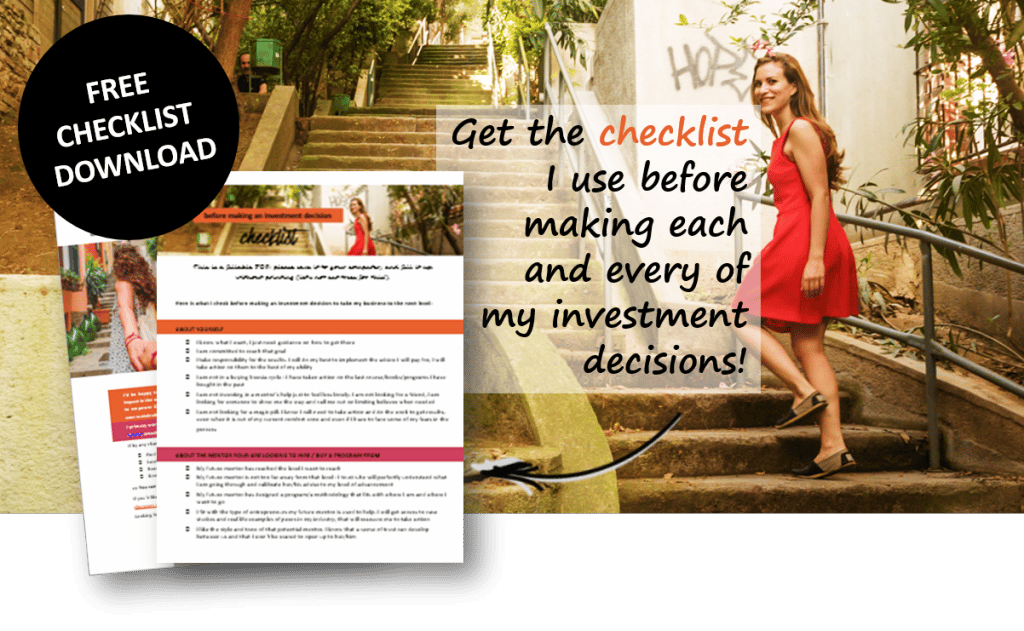 Enjoy!
---
Let us know in the comments below: what has been your experience with mentorship? What difference has it made in your entrepreneurial journey?
---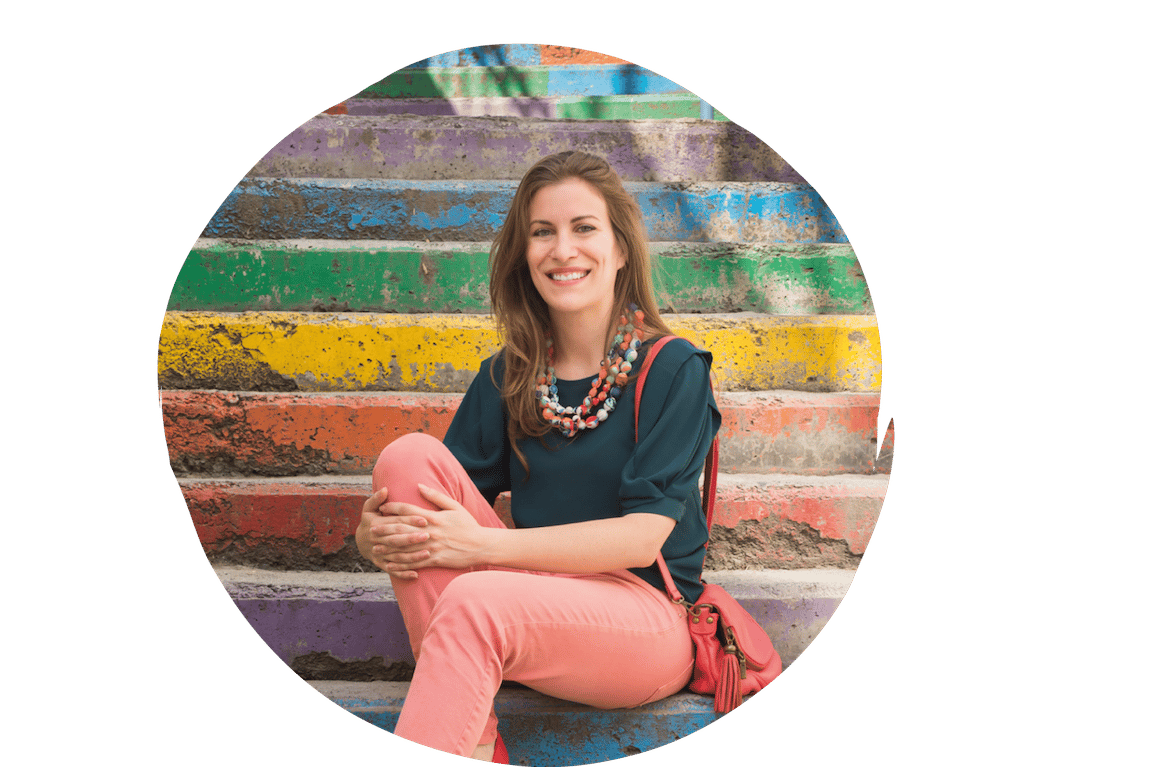 Solène is the Chief Empowerment Officer of Creators for Good.
She developed a methodology that allows Global Citizen to start and grow their own impactful businesses from anywhere in the world – and with no need for investors or government support.