Martin, what made you decide to become a social entrepreneur?
After studies, my first job made me unhappy. I was working in a great project with a fabulous pay, but couldn't cope with the lack of self-determination. Working times, working style, doing what I think is right are too important for me to leave this to the hands of someone else.
So I left my job and when I moved into a shared flat with Mark and Lisa, I found people with an amazing sense for aesthetics. It just felt right to start dreiklang with them.
How would you define dreiklang's mission in a few sentences? What has been its impact so far?
We wanted to improve the situation for Lisa's aunt Gisela. She has those great skills in textiles that were wasted due to a lack of exposure to an audience.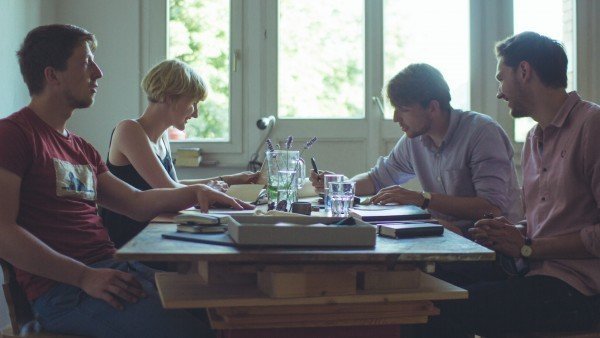 The bigger picture includes celebrating the tradition of the forgotten brand dreiklang, a famous pajama manufacturer of GDR times and bringing self-esteem back to the people in the Erzgebirge, a part of Germany with beautiful nature which has seen some economic hardships and a lot of degentrification, so to say. The young people are fleeing, the old ones feel sad, sorry and left alone. And many lost their jobs after the German wall came down and their factories faced a strong market.
The even-bigger picture includes our dislike for unfair textile production. I believe that we can only control the processes if we are geographically close enough to pop in unexpectedly to see #whomademyclothes. For us and our customers, that's easy and transparent.
And we try to develop a regional supply chain to be sure our suppliers are doing things right too.
I see an impact on our suppliers, because we were the first to ask for some organic certification, so we will help educating them. On our customers, because they are shown our way of thinking and can interact, which they did especially during our crowdfunding campaign (startnext.com/dreiklang). On other entrepreneurs that tell us about using us as a role model like the amazing guys from transparenseeds. And on Gisela, who recently told me smiling "doing good, thanks" for the first time when answering my regular question how she is doing.
What is dreiklang's business model? (How do you generate revenues & impact ?)
We sell T-shirts for more money than we pay for producing them. We pay a fair price for the production in our region. This makes our shirts more expensive than other T-shirts and this higher production price is passed on through the chain. On the other hand, usually clothing has externalized costs, paid by the environment, society or the personnel producing them. So to be honest, I believe our price is quite fair.
How much did you need to invest to create dreiklang, and how long did/will it take to become financially sustainable?
We invested our own money, about 8.000 Euros, and the money of the crowdfunding campaign brought in another 11.000 Euros. Also, some great persons donated directly. But like so many, we made some mistakes, bought wrong fabric (a twist in the order number…) for 3.000 Euros among others.
But our network of clients is growing sustainably, and with it the cash flow. If we can manage the next steps of professionalization without taking a credit, I believe we stay sustainable and can start hiring staff.
Today, what do you enjoy the most in your entrepreneurial journey?
The people I meet and the insights I gain. In team dynamics, in artistic work approaches (our shirts are mostly limited editions with artists), in operations, in customer satisfaction and needs, in ideas to cooperate, when networking.
If you had to give 1 advice (and 1 only!) to people reading this interview, who find your story inspiring and dream to create their own world-changing business one day: what would it be?
Do it as a team and celebrate the high-five moment extensively – it's much more fun than high-fiving with yourself! So choose a diverse team that knows to play and be cheerful.
So thanks Mark, Lisa, and Flo for going on this journey with me! High five!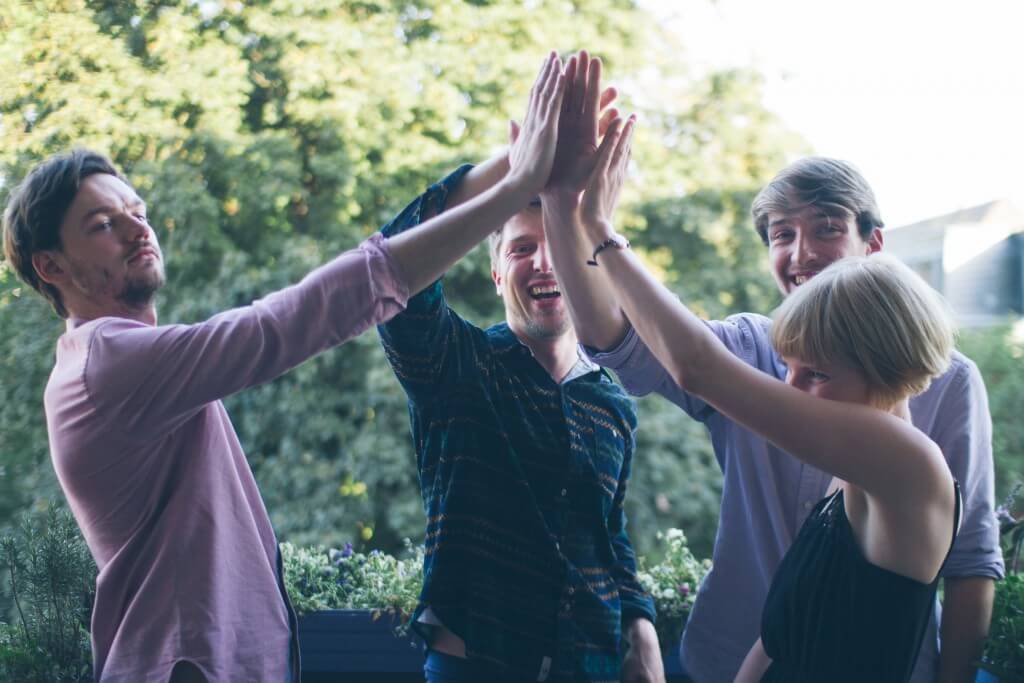 ---
Follow their adventure & become part of dreiklang's community : www.facebook.com/drklngkldng


---

---

Solène is the Chief Empowerment Officer of Creators for Good.

She developed a methodology that allows Global Citizen to start and grow their own impactful businesses from anywhere in the world – and with no need for investors or government support.