Empowering women from all around the world who transition from the corporate world to start & grow their own sustainable business.
Many people want a meaningful work, make a positive impact, while being free and financially healthy… but very few actually take action to make it happen.

If you are on this website today,
my guess is you're ready to take action.
What's standing in the way? A lot of noise and self-doubt…

The voice in your head: "It's hard to make a living with an impact-driven entrepreneur."
Your well-meaning loved ones: "It's too risky to run your own business."
The endless stream of expert opinions: "You must run your business this way to be successful."
It's impossible to focus, when you're drowning in the noise and tripping over negative thoughts. So, what happens?
You freeze because you can't decide what to do.
You spin your wheels—unsure about what has the most impact.
You bounce from one shiny object to the next because you don't want to miss out.
You scrape by with barely enough income to cover your bills, although you're working long hours.
That's just how it is. Entrepreneurship is a constant struggle… Right?!
What if that's not how it has to be?
What if you could cut through the noise and create your own path to 
a fulfilling, impactful, and sustainable business?
You can run a business that aligns with your vision and values.
You can run a business that gives you financial and lifestyle freedom.
You can run a business that empowers you to do have the positive impact your full potential is aligns with.

What if all you needed was the right sherpa?
In mountain climbing, a sherpa is a guide that you can rely on to bring you where you've never been before. They show you the way, tell you what and when to eat, sleep, breathe, so that you can concentrate on the most important: putting one foot in front of the next… and enjoying the view :)
A good sherpa has already been where you're going: they know the wrong roads, the shortcuts, when to give breaks and when to power-through. They have brought other people to the top and can adapt to a different pace.

Let me share the story of how I first climbed that mountain, how I empower other women to climb it too, and how together we are changing the way business works, the way the world works.

It IS possible to make an impact and earn a (good) living as an entrepreneur— I know because I did it…
Hi there, I'm Solène, founder and Chief Empowerment Officer at Creators for Good.
I've been where you are—sitting in a corporate meeting and wondering, "Is this all there is?"… I felt the fear and self-doubt and asked myself, "Can I really start my own business in a way that's aligned with my values?"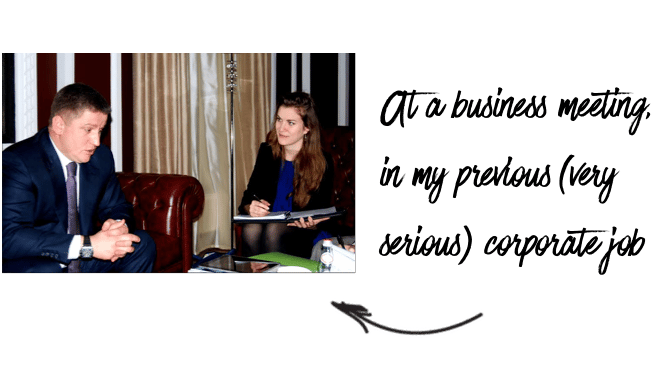 After I earned a Master's Degree in Sustainable Development, I landed a traditional, "good-on-paper" job. For three years, I was travelling the world, gaining experience in business development and intercultural management. I had big responsibilities and the salary to match.
However, as great as it seemed on the outside, I was deeply unfulfilled on the inside–and very disappointed with how corporations "used" Corporate Social Responsibility.
This disconnect between my values and my work became so heavy that I actually experienced a burnout–at 26 years old!
I knew I needed to change.

At the time, I was living in Turkey (with the love of my life) where it was impossible to find THE job that would align with my values.
So, I decided to create it for myself. I never (ever) thought I could become an entrepreneur before that very moment. Yet, it became my #1 goal to find a way to make a living and make a difference at the same time.
It wasn't the classic "startup" situation: I had no access to investors and almost no local network– just a computer and a few months of savings to cover my living expenses.
Spending months fine-tuning a business plan to seduce potential investors was out of the question.
I had to find an alternative way to start my own business.

The launch phase of my business was far from perfect. I struggled to define MY idea because I didn't believe it was "world-changing enough." (anything that doesn't solve world poverty isn't good enough… or is it?!). When I accepted that it was ENOUGH to have an impact in my own way, with my skills and talents, the Creators for Good mission became clear.
I explain how you too can define your own sustainable business project over here
And pricing and sales?
That important piece of a sustainable business didn't go smoothly for me at first. In fact, I hung up on my first prospect, when she asked the price of my services! The truth is I felt ashamed to charge money for something I love doing. I had to work (a lot!) to shift my money mindset. Now, I help my clients do the same.
I share how you too can become confident about charging fair prices over here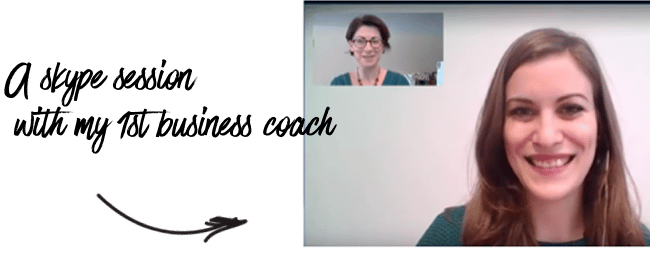 The first true turning point for me was coming across other female entrepreneurs, who had launched online businesses that supported their lifestyle, and had done it on their own terms. I learned and applied similar strategies to my vision for an online business, one combining financial self-sustainability AND positive impact.
This strategy worked.
I reached financial sustainability in only 7.5 months (as opposed to 3 years in average for classic "start-ups") and had a global impact from my first year.

Since 2014, I'm empowering women all over the world to start and grow their own sustainable businesses: so they don't have to depend on (heartless) corporations to make a good living, and can use their time and creativity doing something that matters.
And it brought me beyond what I ever thought possible by…
Earning more than in my corporate job (although I started my business thinking it would be impossible to earn as much!)
Co-authoring a book—Meeting of The Minds : The Social Entrepreneur's Roadmap for Collaborations That Works
Co-founding a 2nd business—Changemakers Association
Earning a Coaching Certification on Money Mindset
Winning the "Iconic Women Creating a Better World For All"
Award at the Women's Economic Forum 2018, in The Hague, Netherlands
Growing a team of collaborators — Creators for Good now has a team of 4 professionals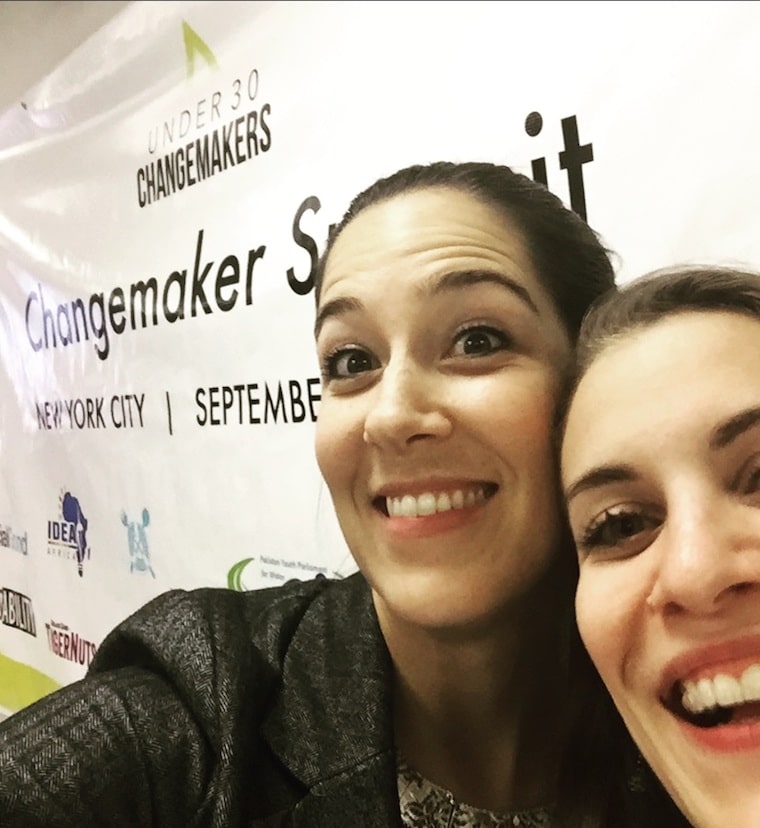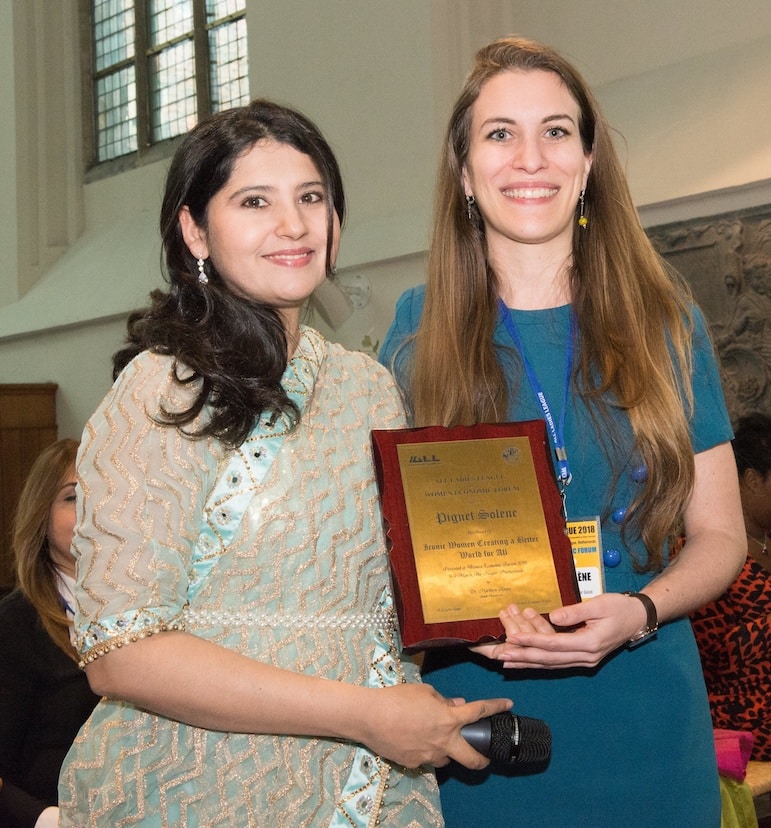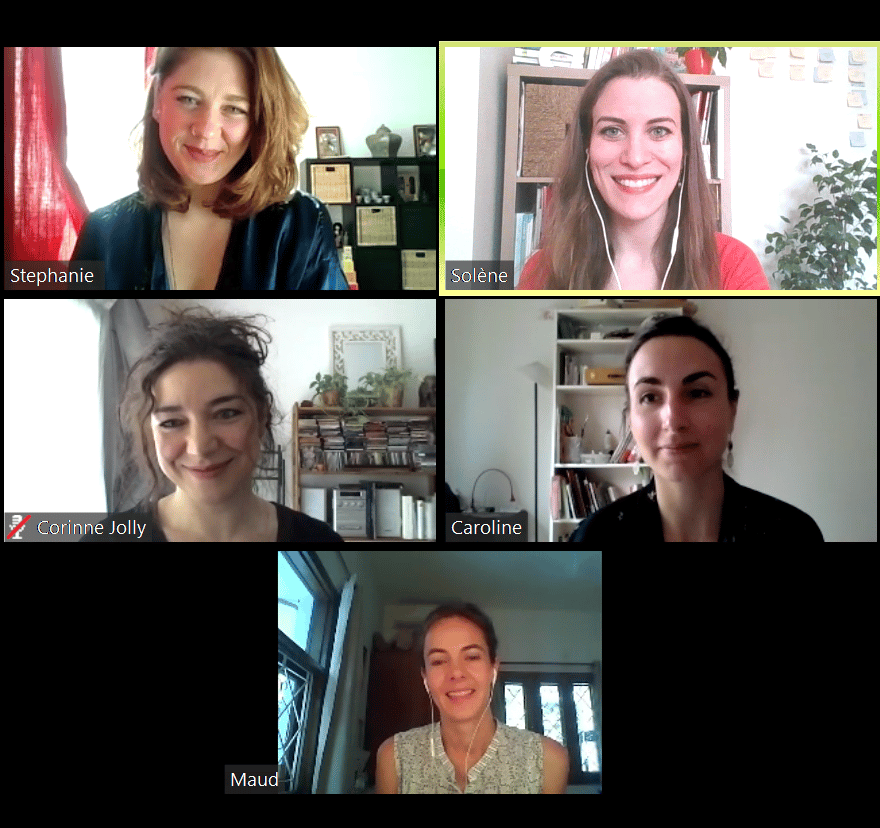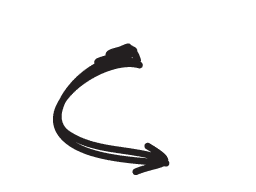 Fear doesn't lead to growth.
I know first hand that it can be scary to invest in yourself and in your business. To think it's better to wait until being more successful, having more money, and so on…
The truth is, the faster you hire a Sherpa, the faster you will grow the confidence to reach your true potential. Creators for Good wouldn't be what it is today, if I hadn't invested—before I thought I was "ready."
Over the years, I have invested thousands in leadership coaching, money mindset help, and online marketing mentoring. Even now, I hire one-on-one mentors every year, to reach new levels of success without having to reinvent the wheel.
My vision is to create a ripple effect of good: Every woman who succeeds will inspire others to also have a positive impact in the world.
The Creators for Good Way:
Helping Alternative Entrepreneurs Succeed with Alternative Methods
All of my clients share a few common threads, and none of them fit the traditional career-ladder mold. Does this sound like you?
You want more than just a job, or to make money. You want to make a difference in your own way.
You want to feel good about your work and want it to align with your values.
You want to make a good living doing what you love.
My clients typically come to me in one of two stages of business:

Launching:
You're new to business, or haven't yet launched, maybe still working a day job.

Growing: You've been in business for a while and have all of the basic structures in place, but you're struggling to reach financial sustainability and/or your full impact potential.
In both stages, purpose-driven entrepreneurs tend to struggle with finding what to focus on, what will have the most impact, and taking consistent action to move their business forward.
These struggles lead to…procrastination–not even starting because you're so confused, or a lack of financial sustainability–you end up working endless hours for not enough money.
The fact is many traditional business models and plans aren't a good fit for purpose-driven entrepreneurs.
That's why I spent countless hours working to find a better way for more women to have an impact, while supporting their lives as entrepreneurs. I created an approach that combines:
I created an approach that combines:
Personal development
Lean startup
Human-centered design
Authentic marketing
Collaborative "flat" organization
The result is a step-by-step methodology, which has been tested and proven effective by impactful entrepreneurs and changemakers on 6 continents–entrepreneurs working on causes like Women's Empowerment, Ecotourism, Work Happiness, Zero Waste, Sustainable Cosmetics, Impact Journalism, Economic Development through Art, and more.
Beyond the impact they are creating in the world, my clients also transform their own lives. I'm able to witness this incredible transformation, as they become empowered to be more free, more independent, more themselves.


My ultimate goal is to empower more and more women to become confident to start and grow their own sustainable business, to live wherever they please, and to do what they love–like I did!

After moving forward with Creators for Good, clients can fly on their own…
I finally have my first clients. It went way beyond my expectations. Today I have 4 clients who signed up for my services thanks to all the actions we worked on together… and I finally have the life of a digital nomad!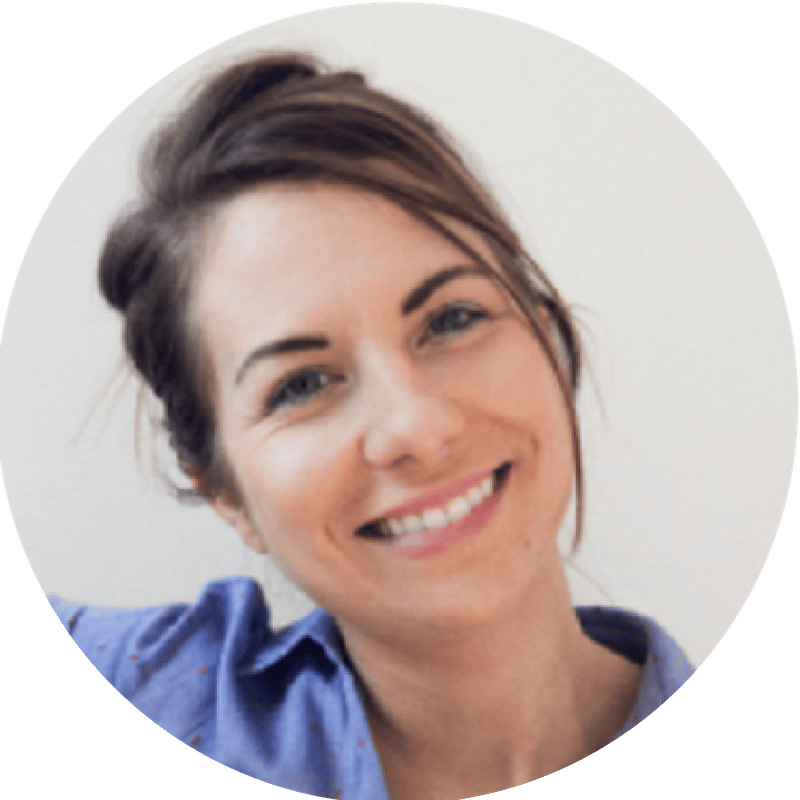 Marie-Laurence
I joined your program as an investment in myself, to help me focus, and make the project up and running. As a result, I have been able to find a way forward, which wouldn't have been possible on my own. It was definitely a worthwhile investment !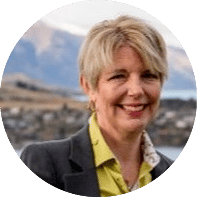 Lucia
Before we started to work together, I felt completely overwhelmed. I really needed to gain more clarity and strategic view. I needed a roadmap ! Now, so many things have changed! A, I have a business. B, I have a community. And C, I know where I am going!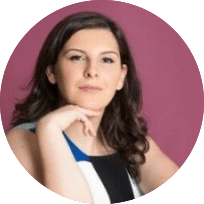 Rita