and how you can do it too!!!
As social entrepreneurs, if you want your solution to actually have an impact, you need to serve a community.
The community you serve may be single moms, unemployed people, expat spouses, young entrepreneurs, saudi women, unknown artists, eco-friendly consumers ; just to name a few.
And nowadays, the magic of Internet allows us to connect individuals from all over the planet in online communities. To empower & foster collaborations within the community itself, in addition to providing with a(n innovative) solution to support it's members.
One of the most popular platform to materialize such community is: facebook groups! Simply because many people already go to facebook everyday, and thus are more likely to interact often with one another, as compared to a stand-alone platform.
Problem: there are so many facebook group out there, how can you stand out? How can you attract people to be part of your community, enough to make it a "go to" place for people to ask & receive support?
In this article, I will share with you the 8 simple steps that allowed us to double our community of social entrepreneurs… in less than 30 days!
[Tweet « How to double your community in 1 month #socent #impact »]
Step 0 – Get started
Just a small intro to give you an idea of how our community of social entrepreneurs started (you can't grow something that doesn't exist, right?!).
Back mid-2015, Danielle (the founder of theSedge.org) and myself (in my quality of founder of Creators for Good), decided to co-host an online event, since both of our activities aim is to support social entrepreneurs worldwide. We do that in very different ways (she offers online courses, I do one-to-one consulting) but with the same goal: making social enterprise (actually) WORK!
On the day of the online event, that was supposed to be a one-shot-fun-thing-to-try, we offered 1 hour of Q&A (on the topic of collaboration).
We called it: the Live #SocEnt Lab: 1 hour Q&A for Social Entrepreneurs around the world.
Around 50 social entrepreneurs from many different countries joined, and it was a lot of fun! We received many positive feedbacks:

But also, and that is something we did NOT anticipate (!), people did not want to hang up! Some started to ask if there would be another event next month, other exchanged their contact details, and one even offered: why don't we continue the conversation in a facebook group?! Create our own community of social entrepreneurs!
Danielle and I had never hosted a facebook group before, and we felt that would be another fun-thing-to-try. The Global #SocEnt Lab was born!

After 6 months of existence, we had around 170 members, without doing any structured promotion.
We managed to avoid having spammy content (that lower the value of many big groups). We were experimenting on ways to keep the conversation going, which was not as easy as we thought it would be initially!
Becoming the "go to group" where people share their challenge and get support by a like-minded community cannot happen overnight!
That said, we identified one of our key weakness: our community of social entrepreneurs was not attracting enough new people "naturally", and this affected the overall interactivity of the community.
Step 1: Define your (awesome) goal
Before you take action to improve something (like growing your community for example), the 1st step is to define your goal, the end result, a clear target you can then aim for.
Not just "I want to grow my community ». Nope. You have to define your goal in a S.M.A.R.T. way, meaning:
Specific (don't be too broad, and choose 1 goal and 1 only).
Measurable (otherwise, how can you know if it is reached? Set a number, or a clear yes/no fact).
Achievable (let's not target the moon to reach the stars, be honest with yourself on what you think you can actually do).
Relevant (it has to fit with your overall business / life strategy).
Timely (from 1 week to 90 days. Goals that are longer than 90 days increase the risk of procrastination).
In our case, this translated into:
Gather 300 social entrepreneurs enthusiast in our group by the end of the month.
We were at 171, with average 5 new members « naturally » every week. So if things just continued as it was, we would have been at  around 190 on dec 31st. So 300 is kind of bold (knowing it took 6 months to gather 170 people!), but still achievable (110 people more than the natural growth with no effort whatsoever).
Step 2: Look back
Find 5 reasons, or at least hypothesis, why you have not reached that goal yet.
Make the effort to really find 5 of them (not just 2 or 3)… you'll see they won't all come to mind right away, but those you find last will probably turn out to be the most useful ones!
In our case, this translated into:
We never set a timely target / defined a growth strategy so far.
Social Entrepreneurs who could be interested by our « Q&A » concept don't necessary know the group exists! It is a visibility & promotion issue.
Danielle and I have « mentioned » the group existence to our existing communities (theSedge.org on one side, Creators for Good on the other), but not outside.
We (almost) never encourage our members to spread the word about the community.
The name is not SEO friendly > people can hardly find it when looking for a social entrepreneurs community on FB (especially because of the hashtag "#socent" that not everybody knows).
Step 3: Do your homework
In other words, do a bit of research to find out the best practices (& tools) that can help you reach your goal. No need to re-invent the wheel!
Some entrepreneurs who have reached your goal might talk about the best strategies in their blog, some experts might have developed free tools that can help.
Before taking actions, let's make sure we know what are the best actions to take!
In our case, this translated into:
The best articles I found on the topic were:
In those articles, I learned:
Things we are already doing (engaging with members, welcoming new members, etc).
Things I had identified as improvements potential (group name).
AND things I did not through about (automatic twitter invitation, promoting in other groups).
Step 4: Make a detailed list of action
Take a piece of paper (or your favorite online-to-do-tool) and write a DETAILED list of actions to take :
In step 2 and 3, you might have had 4 or 5 ideas of things to do / improve in order to reach your goal.
Now, let's break them down into small, easy steps you can take in the coming days.
The idea it to make those feel super easy, so don't be shy to sound super-stupid-simple, baby steps style.
In our case, this translated into:
I am a big fan of trello when it comes to to-do-list, so here is what it looked like for me: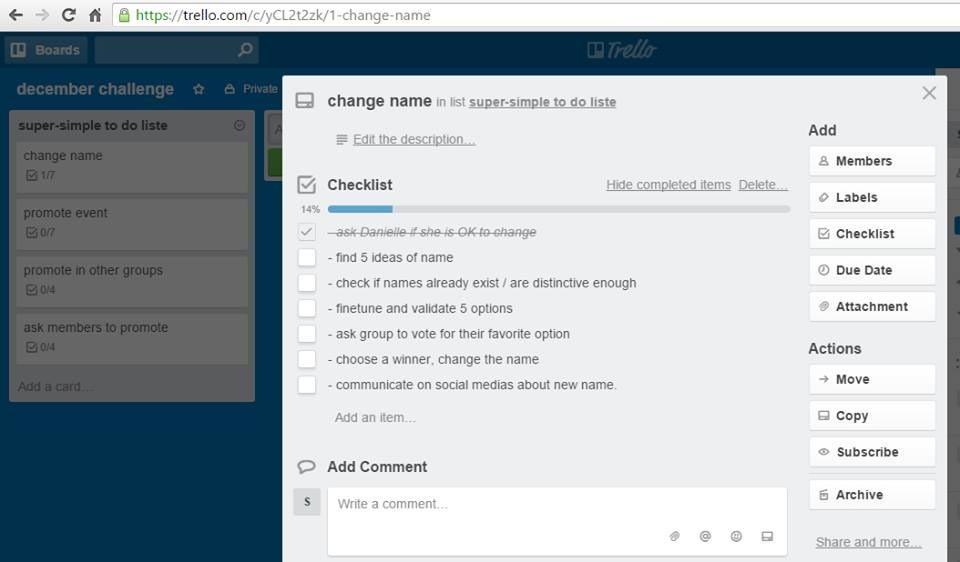 Step 5: Take *small* daily actions!
– What?! Daily??!
– Yes! That's the MOST awesome way I know not to feel overwhelmed, keep the consistency and the energy all along the way.
In step 4, you divided your big goal in tiny little actions. Have a look at your list and divide the tasks per days you have left. (Take into account weekends and holidays!)
Now simply choose 1 moment of your day (first thing in the morning? Right after lunch?) and dedicate 10 to 30 min to implementing 1 of the actions in your list.
Voila! Your action plan is ready, now you can start with your 1st action for today ;)
In our case, this translated into:
Remember I took the decision to grow our group in December, i.e. the month I also go back to France to celebrate Christmas with my family & New Year's Eve with friends.
By the time I reached step 5, there was 11 days left (after taking out weekends & holidays). I divided my to-do folders into 3 weeks, and started by implementing the actions I had planned for week 1!
Here is what it looked like: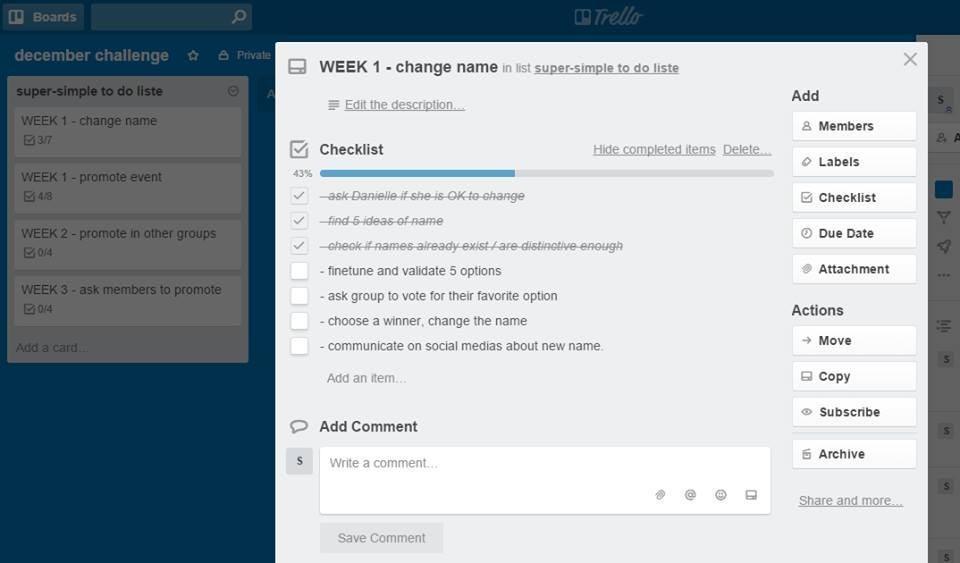 The actions themselves are so "stupid simple" that it did not feel like a giant mountain anymore ;)
---
At this time, and half way through the goal-reaching-process, engagement in the group started to grow. We even have awesome members introducing themselves with cool pictures!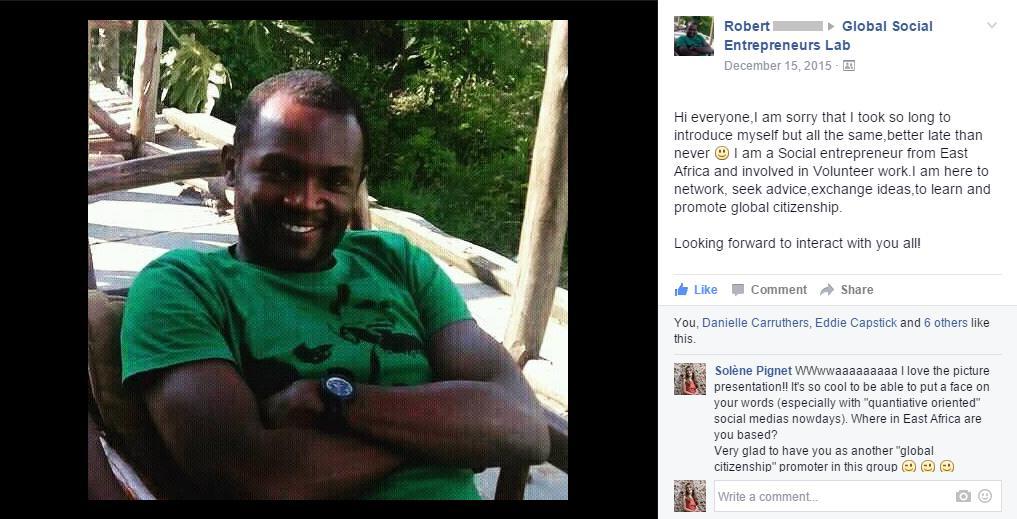 ---
Step 6: Implement your daily plan… daily!
The hardest part is to keep being persistent… and not to procrastinate on taking action.
One trick I can add to help you reach your goal & take action: make it public!! This way, you cannot go back ;)
In our case, this translated into:
I told the group I had the ambition to grow it up to 300 members (from day 1)
I actually created a fun "challenge" around it, encouraging others to also reach one awesome goal by then ;)
I shared the step-by-step process with everyone (which has now been recycled into … the blog post you are reading right now ;) )
I also mentioned the actions I was taking daily… so I felt "even more obliged" to do them (and even though with the holidays coming, I had so many other things to finish for my own business too!)
Here is a screenshot of something I posted in our group on December 16: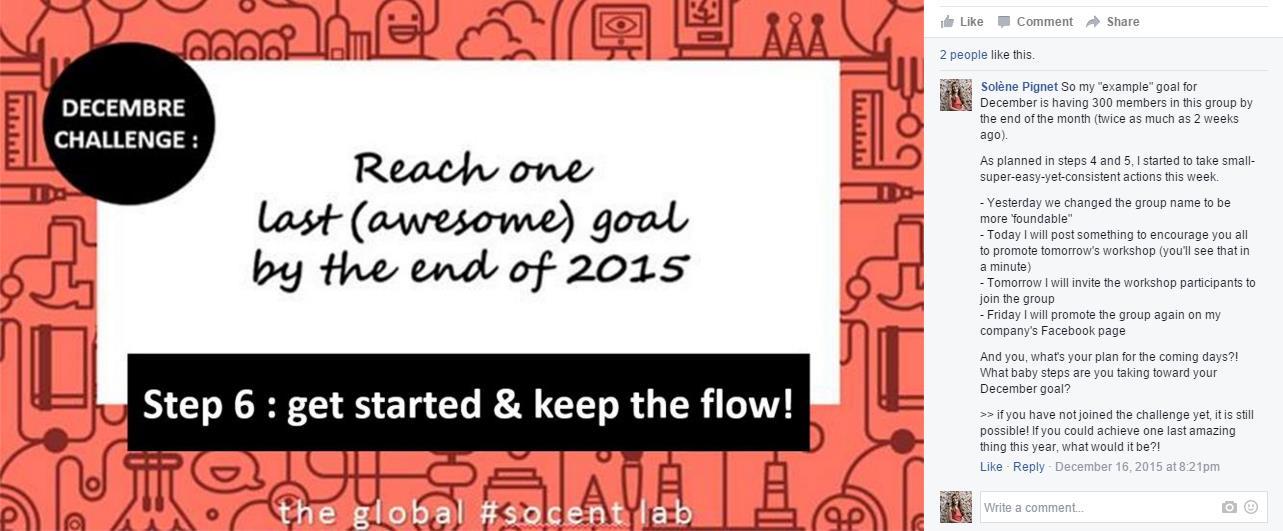 Step 7: Review and adjust
Now that you have taken action daily (or almost daily), how far/close are you from reaching your goal?
What actions have been the most efficient?
What extra actions are you going to add in your to-do list in order to maximize your chances to reach your goal?!
In our case, this translated into:
Review: we had already gained 50 new members since we began, and we need 75 more in the coming 9 days.
Adjust: actions are working, so let's add a bit of extra creativity here and there, to accelerate the process.
Step 8: Do something EXTRAordinary ;)
You have set a reachable goal.
You have identified key actions to take.
You have taken action on a regular basis.
Now the deadline is getting closer: time to be bold & put one last drop of extra energy!
What did you not dare to do until now? What did you feel shy of trying, but could actually make a difference?! Who could you ask help to?
In our case, this translated into:
At that point, we were missing 27 people (or 18% of the goal)… SO CLOSE!!!
And we had 2 days to go.
The extra-ordinary action I decided to take (and that I felt shy to do up until now!) was to invite people personally + ask others to do so too.
AND THAT WAS IT!!!
Our group reached 307 people on December 31st!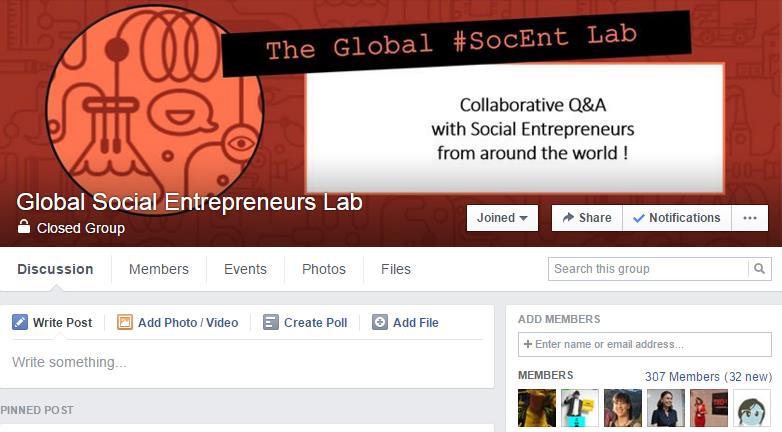 Today, as I am writing this article, our community counts 387 awesome members, and it continues growing "naturally" way faster than it used to do ;)
Long story short: it is possible to double your community in 1 month, if it is realistic (as compared to how much it grew "naturally" until now), and if you take simple actions on a daily bases.
[Tweet « How to double your community in 1 month #socent #impact »]
Epilogue:
The best thing about doubling the size of our community is not just about "the number", it the quality of the impact we can then deliver.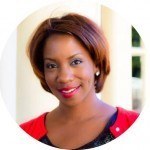 Here is one touching feedback we received from one of the new member (who might never have "found us" if we did not go out of our comfort zone & took action daily to be more attractive!):
« I want to thank you for how much of an impact your work is having on the world in small and monumental ways » – Karen.
<3
So, what are you waiting for?!
---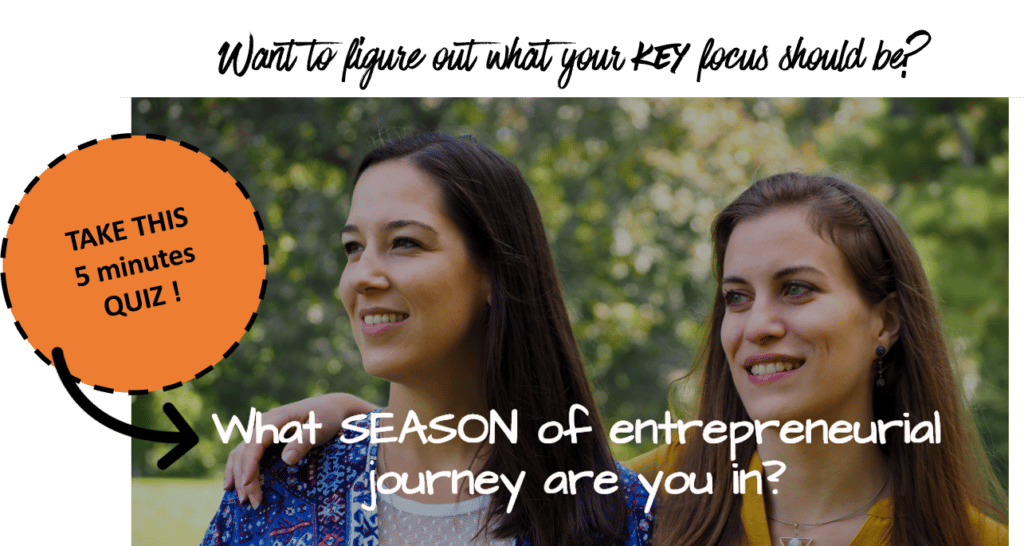 ---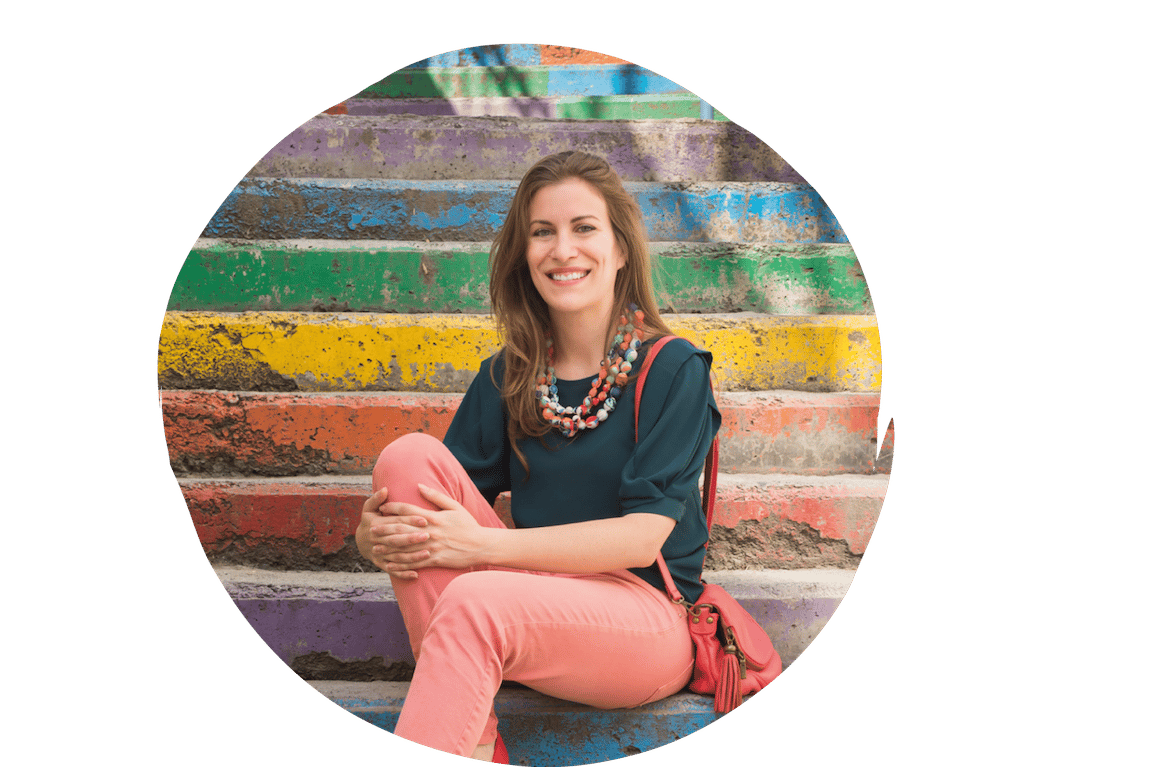 Solène is the Chief Empowerment Officer of Creators for Good.
She developed a methodology that allows Global Citizen to start and grow their own impactful businesses from anywhere in the world – and with no need for investors or government support.